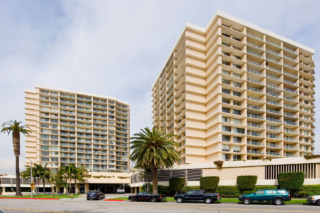 Opting for city dwelling over the more traditional suburban, standalone home, in an extremely safe environment? Ocean Towers, the opulently adorned spacious twin towers is amenity laden for California style.
These posh units tout stellar views throughout. No other residence can match the variety of unobstructed views of the Santa Monica mountains to the West; Century City and downtown Los Angeles to the East; and long stretches of the blue Pacific Ocean stretching from Santa Catalina and Santa Monica to the South; Malibu to the West.
The ultra-extravagant residential co-op towers house the most prominent families and individuals as well as the city's power elite in the business, entertainment and sports worlds. Ocean Towers is one of California's most exclusive real estate destinations, offering luxury amenities, concierge services, switchboard, banquet center, pool, spa, sun deck, gym, sauna and even a more impressive investment. Available for long term lease or purchase.